CPERL Celebrates 10 Years Strong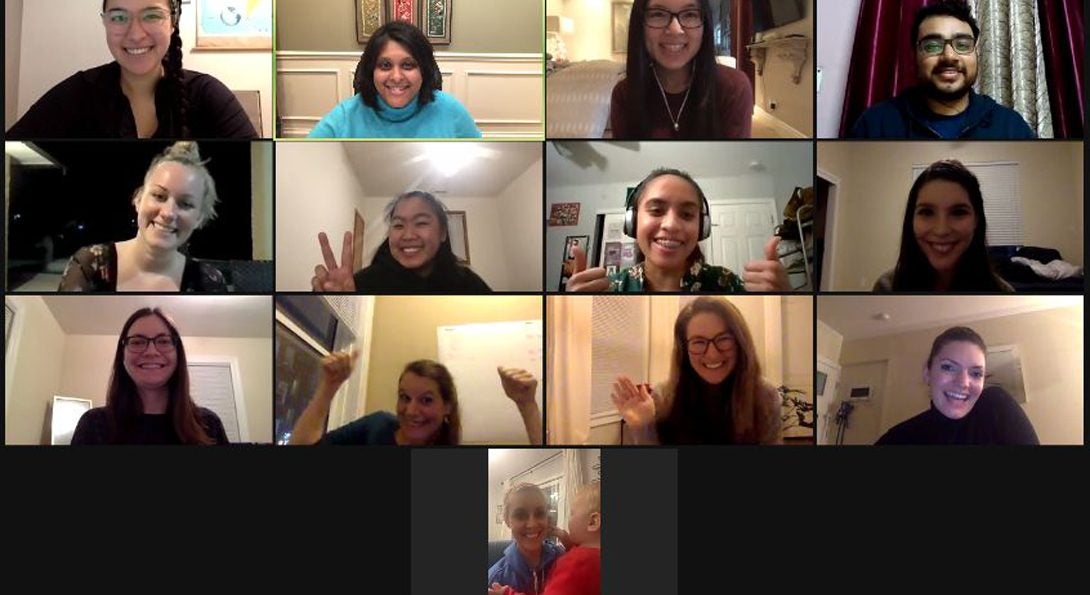 Happy 2021! Our lab began the year with our annual lab retreat, followed by an evening event to celebrate our first (but not last) decade of accomplishment and growth. Mary leveraged funds from her recent AHS Researcher of the Year award to put towards a new lab photo wall feature that is designed to complement the lab website in capturing the team's story as it develops over time. A Zoom party was planned by current members of the lab, and more than a dozen members could join the fun. Thanks to event planning support from Vivian and Zuri, time was well spent mingling, playing lab trivia, reflecting, viewing a slide show set to music, and voting on inaugural images for the lab's new photo wall.
Mary shares: CPERL was born in Colorado, in a three-seater room without windows, and a leafy mobile carefully hung above to bring the outdoors into our shared space. In this space, we grew into a solid team that laid a strong foundation for the principles and work we would accomplish together over time. We grew bit by bit until we moved to Chicago, where we have been able to spread our wings to strive for new heights and new directions. It is deeply satisfying to have built something that has lasted far longer than it was ever supposed to ... against all odds, we rose and climbed together while taking time to enjoy the journey and views along the way. I wish to thank you for investing your time, talent, and good character to help us get to this point in our history. Thank you for letting me bring my full self forward, to be able to fail forward right along with you. Let us elevate our efforts moving forward, individually and collectively, to ensure that environments like this .. the ones that dare to challenge us to become our best professional selves ... are a staple rather than an exception. I promise that I will be working alongside you, sponsoring you, shouldering your falls, and cheering you on, for as long as it takes, or at least for as long as I last, with the gifts of floral scents and luxurious moisturizer in hand! Cheers to working towards a second decade of CPERL magic.
Modified on February 05, 2021